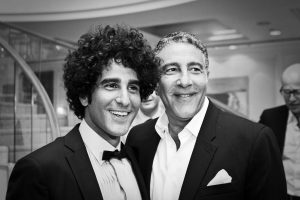 This family-owned group has been involved in kosher business for generations. Our expertise in the kosher meat industry including high end processed meat in France, several butcher shops and steakhouse restaurants in Paris, frozen goods, has built our excellent reputation within the French Jewish community over the decades.
The very thin line between meat and wine has led us in 2003, to create Victor Wines, to produce, import, and distribute kosher wines and spirits in the United States. Since the very beginning of this adventure, the mission followed the highest standards of quality and commitment to excellence. 
In the world of wine, the jargon is more abundant than the good bottles . That is why we prefer a rigorous selection than an accumulation of labels. Because the important thing is not to have choice, but to make the right choice.
We are proud to offer fine wines from around the world such as Italy, France, Argentina, Chile, Israel, New Zealand, to name a few.
We are very much involved and represented in strictly kosher stores, liquor stores, restaurants, but also in nationwide chains such as Winn-Dixie, Total Wines, Whole Foods, and more.
Also, our active distribution in 15 states but also in Europe has given our wines an international success and an excellent reputation within the jewish community.
Freddy Levy
President – Founder
Freddy Levy provides 40 years of experience in the kosher business to the company, acknowledging all the important steps required to meet excellence in the kosher market. He has been one of the most influent references in the meat industry in France, which has led him to the United States, founding Victor Wines with the same values of quality and excellence always in mind when engaging in the wine business over 13 years ago. He is based in France, from where he supervises all the European productions.
Bryan Levy
CEO
After spending 12 years in the kosher meat business in France, Bryan Levy has led his family's legacy of kosher business in France into the 21st century. He has brought to Victor Wines his leadership, enthusiasm for hard work and fresh insight when it comes to kosher business. He has founded and directed many businesses in France with success, and it appeared only natural that he would be needed to expand the company with his renowned managing skills. He lives in Florida since 2014, and is dedicated to production and distribution operations.
Florence Desobry
Vice President
Originally from Bordeaux, France, Florence is the natural-born expert in wine. She has always been involved in this industry, and has worked with the most renowned wineries and Châteaux in France. She is the sophisticated approach to wine tasting within the company, and has been since the very first day of Victor Wines. She cares for the logistics of the company, and makes sure the high standards that were set are met at every level. Her education in one of the most prestigious college in France, her experience with the wineries of « Grands Crus Classes » as well as their export to foreign countries makes her an inestimable asset for the company.