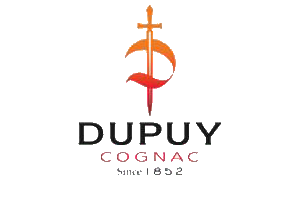 Cognac Dupuy is part of the larger, family-run cognac house Bache Gabrielsen, the leading cognac in Scandinavia. Dupuy has recently been re-branded to be exported China, Russia and other international cognac markets. Cognac Dupuy has a far reaching and interesting history dating back to 1852. Well known on every continent of the globe, Cognac Dupuy pride themselves on producing high quality cognac in the true Charentaise fashion and produce a full range of cognacs from a VS through to extra special vintages.
History of Cognac Dupuy
It was the year 1852 when one Auguste Dupuy created Cognac Dupuy. He was succeeded by his son, Edmond, on his death in 1895. 10 years later saw the Norwegian pair, Peter Rustad and Thomas Bache-Gabrielsen, take over the house, keeping the name of Dupuy for the brand. At the same time they created their own cognac brand to sell on the Scandinavian market, Rustad & Bache-Gabrielsen. So in fact, Cognac Dupuy was the forerunner of Bache-Gabrielsen.
When Peter Rustad died, Thomas Bache-Gabrielsen became the sole owner of both brands. In 1932 he brought his son Réné on board to work in the business. It was he who carried on as head of the company following his father's death in 1942. Réné's eldest son, Christian, joined up in 1968 and continues to play an important role in the company to this day.
Dupuy Cognac Today
Christian Bache-Gabrielsen's son Hervé runs the company today, and is responsible for planing Dupuy back on the market in a modern and innovative fashion. He is ably assisted in running Dupuy Cognac and Bache-Gabrielsen by cellar master Jean-Philippe Bergier. Together they continue to produce eaux-de-vie in the traditional manner of the previous centuries, concentrating on quality, design and forward-thinking business strategies. The company continues to be solely owned by the Bache-Gabrielsen family and is housed in a beautiful old mansion in the city center of Cognac.
Because of the family's roots, Bache-Gabrielsen sales to Scandinavian countries are particularly strong. They provide to both the duty free trade in many Scandinavian countries, and also to the Norwegian state monopolies. But Cognac Dupuy is particularly known in other countries and continents. These include North and South America, Japan, China and Russia.